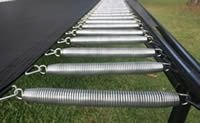 EXCLUSIVE to TRAMPOLINESONLINE - Nationwide Installation Service
Trampolines are not difficult to build but sometimes it may seem daunting or too time consuming to erect one.
We are the only trampoline sales company who offer a nationwide Home Build Service. We have been selling trampoline since 2004 and there isnt a garden trampoline that we havent built! Some trampolines are easier / quicker to build than others but most trampolines take our fitters around 2 hours to build.
Trampolines Online have built up their own team of fitters, all strategically placed around the UK so that we can organise a fitter to be with you, no matter where you are in the country.
Once your order is placed you will receive a phone call or email within 5 working days from the team to organise a date and time slot that is convenient for you. We aim to install all trampolines within 10 working days of placing the order.
The price for this service is £179 and the trampoline and safety enclosure if ordered will be installed, acessories such as the ladder, tie down kit etc will not be installed by your fitter.
Please note that due to legislation of commercial waste the fitters will not be able to remove the packaging from site for you.
Unfortunately as of yet we are unable to provide this service to Ireland, Northern Ireland and the off shore islands of the UK.