Safety Straps:
Safety straps can be fitted to any Kettler Trike. Great for the younger children. If you require a Safety Strap please select from the Options/Extras box.

Lockable Steering:
One easy adjustment changes the handle bars from fixed, for use with the parent pole, to free for the child to steer.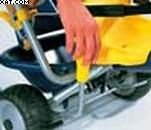 Hand Brake:
A feature on most of the Kettler Go Karts and Trikes.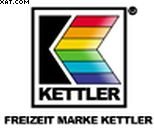 Warranty:
Kettler stands for quality, safety and reliability. All Kettler Go Karts and Trikes are made in Germany and come with a 3 year warranty.
Useful Links
Contact Us
Trampoline Articles
Box to Bouncing in 45 Minutes 16/02/2017
When Telstar introduced their new Orbit trampoline as the fastest, easiest garden trampoline to build EVER we had to put it to the test...
more
VORTEX Trampoline Demand in Black Friday Sales 30/11/2015
Black Friday came and went and the sales of garden trampolines soared...
more