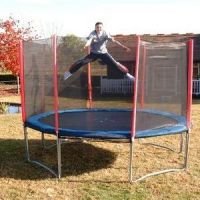 Trampoline Specification :
Diameter: 10ft Jumpking Popular
Frame: Galvanised steel frame
Springs: 72 zinc plated springs
Height : 28 inches from the ground
Trampoline Bed: Anti rot pemertron mesh fabric
Pads: 20mm thickness. 8" width. Red Vinyl Padding.
~~~~Please note the photo is showing the Plum Safety Enclosure with a standard trampoline (libary photo).~~~~

Safety Enclosure Information;
The Plum safety enclosure is designed to offer peace of mind and prevents unauthorised use of the trampoline. The net totally encloses the jumping area making it impossible to fall off and instills user and parent confidence. There is a 'Safety Entrance System' which allows the children to enter and exit the trampoline.
Delivery:
If your product is in stock and the order is received by us before 1pm, we can deliver on the next business day (Monday to Friday - not weekends). Delivery to the UK mainland is generally free but some exceptions may apply. For other destinations please call 01245 362704 during business hours and we will give you a delivery price.

Warranty:
The Jumpking Popular trampoline has a 10 year warranty on the frame,and 5 years on the bed, springs and on the padding, against any defects in either manufacture or materials.

Useful Links
Contact Us
Trampoline Articles
Trampoline Health Benefits For 2023 11/11/2022
Trampoline Health Benefits Well, the basic act of jumping on a trampoline that brings so much happiness is quite unexplainable...
more
Why you should choose an Oval Trampoline 10/10/2022
What Is an Oval Trampoline? From the invention of round garden trampolines many decades ago trampolines have evolved...
more