Why you should choose an Oval Trampoline
10/10/2022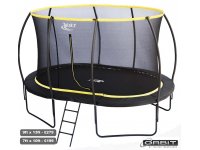 What Is an Oval Trampoline?
From the invention of round garden trampolines many decades ago trampolines have evolved. Oval trampolines are relatively new to the market but the oval shape has become very popular in the UK and we now sell more oval trampolines than any other shape! The oval shape is appealing to those who need to maximize space in their garden, the bounce is high and good quality and if you have more than one child that may wish to bounce this shape is a better option. As the name implies, an oval trampoline is a trampoline designed in the form of an oval shape and it's the two straight edges that help to maximize the space in your garden.
Should I Buy an Oval Trampoline?
If you need to maximize space or have more than one child that may wish to jump at any one time then the oval trampoline is a good choice. These models have three 'sweet spots' and unlike a round garden trampoline the users do not get a pull back to the centre spot. These trampolines generally have a long surface length, making room for several bouncers at the same time without one interfering with the other. Although strictly only one person at a time should use a garden trampoline, we know that in reality this rarely happens. This is the best shape if you have more than one child and this shape will help prevent bouncers from bumping into each other when bouncing.
Oval trampolines generally come in three sizes, a small, medium or large and the choice depends on your garden size, the age of the users and how many children will be using the trampoline.
Is the Oval Trampoline Better for My Children?
Trampolines are a great way to get your children outside and away from gaming. Children love to bounce and they start at an early age bouncing on our beds. Regardless of shape your children will love their trampoline. Trampolines have evolved over the years and improvements in safety features and design have made them more popular than ever. Safety enclosures are now paramount and have greatly reduced trampolining issues/injuries, some safety enclosures such as the Telstar Rigi Net are factory stitched into the trampoline mat. This innovative design makes it completely impossible for the user to have any contact with the trampoline framework, not even a small finger or toe can touch the spring area.
Useful Links
Contact Us
Trampoline Articles
Trampoline Health Benefits For 2023 11/11/2022
Trampoline Health Benefits Well, the basic act of jumping on a trampoline that brings so much happiness is quite unexplainable...
more
Why you should choose an Oval Trampoline 10/10/2022
What Is an Oval Trampoline? From the invention of round garden trampolines many decades ago trampolines have evolved...
more