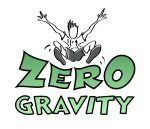 12ft Zero Gravity Specification
Diameter: 12ft
Frame: Fully galvanised steel frame
Springs: 96 x 8.5"
Trampoline Bed: Grade A Permatron bed with Zero Gravity Logo in the centre as a visual reference point for jumpers
Pads: 30mm padding

Warranty:
All Zero Gravity Trampolines have a 10 year warranty on the frame, 2 years on the bed and springs and 1 year on the padding.
Delivery:
If your product is in stock and the order is received by us before 12nn, we can usually deliver on the next business day (Monday to Friday - not weekends). Delivery to the UK mainland is generally free but some exceptions may apply. For other destinations please call 01245 362704 during business hours and we will give you a delivery price.

Useful Links
Contact Us
Trampoline Articles
Trampoline Health Benefits For 2023 11/11/2022
Trampoline Health Benefits Well, the basic act of jumping on a trampoline that brings so much happiness is quite unexplainable...
more
Why you should choose an Oval Trampoline 10/10/2022
What Is an Oval Trampoline? From the invention of round garden trampolines many decades ago trampolines have evolved...
more