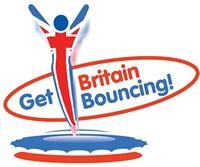 Get Britain Bouncing is calling for clubs, schools, businesses and individuals throughout the UK to take part in a National Get Britain Bouncing Day on June 27 2013 during Cystic Fibrosis Week. You don't need a large garden trampoline to take part, you could use a small rebounder or a mini trampoline, space hopper or even a pogo stick, you just need to bounce. Get Britain Bouncing aims to publicise trampolining as a fun and safe activity for all the family and it will highlight the health benefits of bouncing to cystic fibrosis sufferers.
The Cystic Fibrosis Trust will be heavily involved with the initiative. The trust makes a daily difference to the lives of those with cystic fibrosis and the people who care for them. Most people don't understand what cystic fibrosis is, or what it does, until someone close to them is affected by it. They soon discover it's a life-shortening genetic condition - only half live to celebrate their 40th birthday. Senior Corporate and Trust Fundraising Manager for the charity, Sue Piper said: "We know that families of children who have cystic fibrosis often use trampolines as a fun way to help them do their daily physio and we're delighted to be part of this campaign"
Trampolinist, Laura Gallagher, who is a world and European medallist, is helping with the campaign and the Get Britain Bouncing campaign will also help to raise funds for The Cystic Fibrosis Trust.
To get involved or learn more visit getbritainbouncing.org.uk
Useful Links
Contact Us
Trampoline Articles
Trampoline Health Benefits For 2023 11/11/2022
Trampoline Health Benefits Well, the basic act of jumping on a trampoline that brings so much happiness is quite unexplainable...
more
Why you should choose an Oval Trampoline 10/10/2022
What Is an Oval Trampoline? From the invention of round garden trampolines many decades ago trampolines have evolved...
more