Safety Where it Matters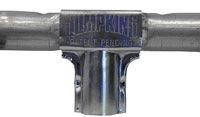 The place where trampolines are at their weakest is in the welded joints at the leg sockets (the ones between the trampoline legs and top-rail). The larger the trampoline size, the greater the stress on these connections.
Jumpking, the world's leading manufacturer of trampolines, has developed the WELD-LESS TRI-LAYER SOCKET (T-Connector).
This patent-pending innovation means that the major stress points on the trampoline is reinforced with three layers of steel.
This innovation is exclusive to the Jumpking Giant trampoline, offering excellent safety and improved durability to our largest trampoline. T-Connectors:
Strengthen the integrity of the trampoline (and fun-ring, if used) structure, meaning a stable jumping platform
Provide a longer lasting frame
Evenly displace the 'bounce impact' throughout the entire top rail

Useful Links
Contact Us
Trampoline Articles
Box to Bouncing in 45 Minutes 16/02/2017
When Telstar introduced their new Orbit trampoline as the fastest, easiest garden trampoline to build EVER we had to put it to the test...
more
VORTEX Trampoline Demand in Black Friday Sales 30/11/2015
Black Friday came and went and the sales of garden trampolines soared...
more