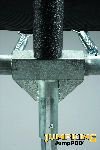 Tri Layer Socket:
Exclusive to Jumpking, the unique Tri Layer Socket greatly enhances the strength, safety and durability of the trampoline. The safety enclosure poles slot directly into the Tri Layer Socket, eliminating the need for brackets and bolts.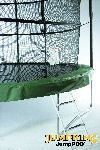 Safety Entrance System:
The entry / exit door fully fastens for maximum security. Ladder included.

Jumpking:
The JumpPOD is made by Jumpking, the largest, most recognised trampoline manufacturer in the world. The wide padding is manufactured from closed cell foam with a laminated green vinyl covering.

Quality Fixings:
The elasticated bungees withy toggles make for an easy set up and a taught enclosure.

Springs:
Fully galvanised 7" springs. The new over and under Eurospring design reduces stress on the frame and ensures optimum jumping performance.
Useful Links
Contact Us
Trampoline Articles
Trampoline Health Benefits For 2023 11/11/2022
Trampoline Health Benefits Well, the basic act of jumping on a trampoline that brings so much happiness is quite unexplainable...
more
Why you should choose an Oval Trampoline 10/10/2022
What Is an Oval Trampoline? From the invention of round garden trampolines many decades ago trampolines have evolved...
more