3 Reasons to Buy a Trampoline
27/02/2019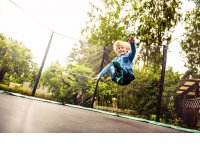 3 Reasons to Buy a Trampoline
1. Trampolines are Healthy for Everyone - Jumping and bouncing on a trampoline is low impact and puts less stress and strain on our children's young bodies. Regular trampolining will help our children develop their motoric skills like the reflexes, their sense of balance and spatial awareness. Regular use of a trampoline will improve muscle tone, general fitness and wellbeing, our children will burn excess energy whilst playing and having fun.
2. It Will Calm Kids Down - Our children are full of energy, exercise through playing on a trampoline is a great way for them to burn this excess energy which will in turn promote healthier, happier children. Our children have the desire to be physical and active but ipads, tablets and PC games are addictive, regular breaks are needed and a trampoline is an easy way to encourage our children to get outside and be active.
3. It Is Not Only for the Kids - Since we know the benefits of children using a trampoline why don't we, the adults! There are trampolines large enough to accommodate the whole family; get one, use it, relieve your stresses and get all the health benefits that follow with its usage. You can always use a trampoline whenever you feel like exercising and not feel like running or jogging.
What Kind of Trampoline is Right for Me?
It might be tricky to know which is the right trampoline for you and your family, especially with so many models available on the market ranging from cheap to premium quality. There are some things you need to know before you buy your trampoline
What is the size of the space you have?
Trampolines come in all shapes and sizes. You need to measure your back garden to know how much space you have. The trampoline can be as small as 8 feet round, and they can be as big as 17 feet in length. The trampoline needs to be placed ideally on grass and the area should be relatively flat. Trim back shrubs and branches and leave a small clearance around your trampoline of 0.5m.
Who Is Jumping?
Younger children (under 8's) will be perfectly happy with a smaller trampoline, an 8ft or 10ft model would be fine. As your children get older, bigger and heavier look at 12ft round, 13ft x 9ft ovals or 12ft square models as a minimum size. If your garden and budget allow then go bigger. The largest trampoline available is a whopping 15ft x 15ft square model.
Which
There are different shapes of trampoline available, round, rectangular or oval
Rectangular Trampolines - Expert trampolinists and trained gymnasts mainly use these trampolines. Rectangular trampolines offer a higher bounce than round and each bounce on a rectangular trampoline regardless of where you land on the mat will be of equal height and power.
Generally these trampolines are made of thicker steel which provide a sturdier, solid framework. The heavier framework will make these trampolines more difficult to move around the garden if needed.
Circular Trampolines - The classic garden trampoline was a round trampoline but these are not as popular as they once were. Smaller round trampolines offer a smaller more controlled bounce with a drawback to the center spot, safer for younger children and peace of mind for parents. These round models are very competitively priced and are available in many sizes to suit all ages and family budgets.
Oval Trampolines - These are the new kid on the block and are becoming the most popular choice, specifically the 10ft x 7ft models. Oval trampolines are better if more than one child will be using the trampoline. The ovals do not have the drawback that round models have. One child bouncing at each end and they will be able to hold their space. There are lots of sizes available and a good quality, good size oval trampoline will not set you back a fortune.