Box to Bouncing in 45 Minutes
16/02/2017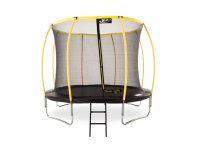 When Telstar introduced their new Orbit trampoline as the fastest, easiest garden trampoline to build EVER we had to put it to the test.
The new Orbit trampoline is a perfect choice if space is an issue as they are only manufactured in the smaller sizes, 8ft and 10ft, ideal for younger users. The styling is great, it offers a JET Black pad, black powder coated ladder and contrasting bright yellow foam covering the steel poles.
The clever build design is what makes the build time super fast on these models. The safety enclosure is cleverly attached to the bounce mat at the factory prior to being packaged, this takes all the hard work out of attaching the net. All in all, it took two of us 45 minutes to build this great little 8ft model. When compared to the other 8ft trampolines available this is definitely a great selling point and we are sure that the Orbit will become another firm favourite Telstar model over the coming years.