Garden Trampolines Tempt Gadget-mad Kids
13/05/2014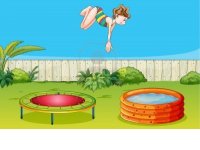 A recent survey of 2,000 parents shows that nearly two-thirds of children are not spending the summer in the garden. Their parents revealed that the youngsters would prefer to play inside on the computer, games consoles and tablets rather than outside in the garden. The survey which was commissioned by Hozelock the British gardening manufacturer revealed that 30% of children spend nine hours every week on consoles and computers compared to only two hours outside in the garden.
"The easiest way to tempt children away from the TV is to make the garden more appealing. A garden trampoline is perfect for entertaining the kids and provides fresh air and exercise!" says James at JMP Stores Ltd. "We find that children will use the trampoline throughout the year regardless of the weather, they have fun and burn some energy".
If your children are spending more time than you would like on tablets and PC's consider investing in a garden trampoline this summer and watch them savour the joys of the great outdoors.