Have fun this summer with a Kettler pedal go kart
11/01/2014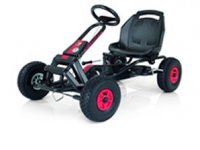 Boys and girls have been racing through the parks on these fabulously designed pedal go karts since 1962. Kettler pedal go karts are made in Germany using quality components and signature styling to create a great range of go karts suitable for children aged 3 - 12 years. Every year Kettler introduce new models to the range and for 2013 the Spa, Suzuka and Melbourne are all new additions. For the complete range of these fabulously fun pedal go karts head to
www.kettlergokartsales.co.uk
all go karts are in stock and available for immediate delivery. Perfect for a last minute birthday present that they will keep them active and entertained.
Useful Links
Contact Us
Trampoline Articles
Box to Bouncing in 45 Minutes 16/02/2017
When Telstar introduced their new Orbit trampoline as the fastest, easiest garden trampoline to build EVER we had to put it to the test...
more
VORTEX Trampoline Demand in Black Friday Sales 30/11/2015
Black Friday came and went and the sales of garden trampolines soared...
more