Love Trampolines? Try Trampoline Gymnastics
13/06/2014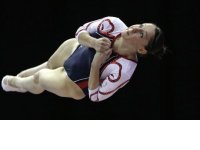 If you have a garden trampoline and love trampolining have you thought about Trampoline Gymnastics?
Trampoline Gymnastics is a relative newcomer to the sport of gymnastics and has only been an Olympic sport since 2000. It encompasses two very distinct categories of competition; Trampoline (individual or synchronised) and Double Mini Trampoline (DMT).
For individual trampoline competitions competitors will show two or three routines, one of which may involve a compulsory set of skills. The skills involved will be somersaults shaped bounces, body landings and twists performed in various body positions such as the tuck, pike or straight position, all finishing on their feet.
The competitors perform on a standard 14 ft x 7 ft regulation sized trampoline with a central marker.
It is a spectacular elegant sport that can see a world-class trampolinist reach heights of 10 metres or more whilst performing their twists, turns and multiple somersaults, it leaves very little margin for error and requires precise technique and perfect body control.
For DMT, a double mini-trampoline, smaller than a regulation competition trampoline is used. It has a sloped end and a flat bed. The gymnasts run up and jump onto the sloping end and then jump onto the flat part before dismounting onto a mat. Skills are performed during the jumps and also as they dismount.
The DMT competition consists of two types of pass. The Mounter Pass is where the athlete performs one skill in the jump from the sloping end to the flat bed and a second skill as they dismount from the flat bed to the landing mat.
In the Spotter Pass, the athlete peforms a straight jump from the sloping end to the flat bed to gain height, performing one skill while landing back on the flat bed and then a second skill as they dismount.
If you are interested in joining a trampolining club try your local sports centre or check out the website trampolining-online.co.uk for a list of trampolining clubs in the UK.
Useful Links
Contact Us
Trampoline Articles
Box to Bouncing in 45 Minutes 16/02/2017
When Telstar introduced their new Orbit trampoline as the fastest, easiest garden trampoline to build EVER we had to put it to the test...
more
VORTEX Trampoline Demand in Black Friday Sales 30/11/2015
Black Friday came and went and the sales of garden trampolines soared...
more