New Plum trampoline is popular at the toy fair
07/02/2014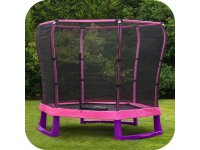 Plum products are always providing the outdoor toy market with new and exciting products. Their latest range of junior trampolines is no exception and has caused much interest at the recent Toy Fair 2014. It is revolutionary in its design as it uses brightly coloured sturdy plastic mouldings which cover the trampoline legs to increase stability for young children. This range of trampoline is aimed specifically at the younger market and is suitable for children age 3 - 10 years of age. It measures 7ft which means it is smaller than the average garden trampoline but still delivers all of the excitement a larger more expensive trampoline would provide. This range of trampoline also sits lower to the ground which makes it easier for children to climb on and off the trampoline and with the reduced height between the trampoline and the ground the risk of falling is reduced. The brightly colours mouldings, padding and safety enclosure are a huge selling point and it is available in blue and pink. My advice would be to buy one now as I can see this product proving very successful over the coming months and stock running low.
Useful Links
Contact Us
Trampoline Articles
Box to Bouncing in 45 Minutes 16/02/2017
When Telstar introduced their new Orbit trampoline as the fastest, easiest garden trampoline to build EVER we had to put it to the test...
more
VORTEX Trampoline Demand in Black Friday Sales 30/11/2015
Black Friday came and went and the sales of garden trampolines soared...
more