New VORTEX Trampoline first to meet improved safety requirements
20/01/2015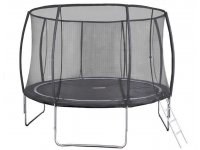 The new VORTEX trampoline range manufactured by Telstar Trampolines is the first trampoline of 2015 to meet the new and improved safety standards. Since July 2011 all garden trampolines sold in the European Union must comply with the European Toy Directive 2209/48/EC, enacted in the UK as the Toy (Safety) Regulations 2011. The safety standards for garden trampolines has recently been changed and all new trampoline models will need to meet the requirements of the new directive. The new 2014 trampoline safety requirements are based on:
Improvements to the construction and components used in the trampoline frame
Manufacturers need to address 'entrapment' of fingers and toes
Impact resistance to the trampoline framework to be improved
Strength of frame and enclosures to be improved
The new VORTEX range has addressed all the points in the new directive so you can purchase knowing that every care has been taken to make your garden trampoline as safe as possible, the importance of buying a safe trampoline cannot be overstated.
Garden trampolines have been very popular in the UK for the past 10 years and prove to be valuable tools for aiding children's development of motor skills, balance, co-ordination, spatial awareness and confidence. They not only keep them entertained, they promote well being and exercise. Knowing that your children are having fun in the new VORTEX 'lantern' style safety enclosure really should give you peace of mind.
Useful Links
Contact Us
Trampoline Articles
Box to Bouncing in 45 Minutes 16/02/2017
When Telstar introduced their new Orbit trampoline as the fastest, easiest garden trampoline to build EVER we had to put it to the test...
more
VORTEX Trampoline Demand in Black Friday Sales 30/11/2015
Black Friday came and went and the sales of garden trampolines soared...
more