Oval Trampolines Prove to be Popular This Summer
23/04/2014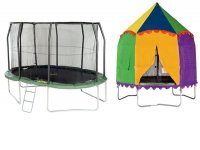 Relatively new to the garden trampoline market and gaining an ever increasing share of this market is the Oval Trampoline. Popular because of it's price and the more practical shape. It doesn't encompass the whole garden, it's straight side sits nicely against some soft hedging, a perfect choice if garden space is an issue.
The Oval range of trampolines available from Jumpking and Telstar offer a superb bounce, with two 'sweet' spots, one at each end, ideal if you are unlikely to stick to the strict one child at a time guideline.
These trampolines come in a great choice of sizes from the smallest, 7ft x 10ft to the biggest trampoline available in the UK, 17ft x 14ft and many sizes in between. They come complete with safety enclosure, cover and ladder and Telstar are currently offering a free Circus Tent with their deluxe range.
If you are currently undecided about which garden trampoline to purchase have a look at the oval range, the kids will certainly not be disappointed.
Useful Links
Contact Us
Trampoline Articles
Box to Bouncing in 45 Minutes 16/02/2017
When Telstar introduced their new Orbit trampoline as the fastest, easiest garden trampoline to build EVER we had to put it to the test...
more
VORTEX Trampoline Demand in Black Friday Sales 30/11/2015
Black Friday came and went and the sales of garden trampolines soared...
more