Reduce the Risk of Your Trampoline Blowing Away in Storms
03/03/2014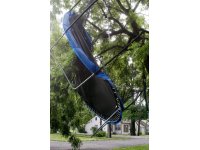 We have just experienced the wettest and wildest weather ever on record so it is no surprise that trampoline after trampooline was blown away in the midst of all those storms. But how can you prevent your trampoline from blowing away and possibly causing damage to somebody else's property? In normal windy conditions a trampoline tie down kit should be sufficient in keeping your garden trampoline secure. The tie down kit consists of four heavy duty steel tent pegs which are screwed into the ground and heavy duty strapping is then attached and secured in place. If we are forecast extremely high winds it is advisable to drop your safety enclosure as this acts like a sail and will add to the force of the wind. Ensure your tie down kit is firm and secure and add heavy sand bags to the trampoline legs to provide extra weight. There is no guarantee that this will prevent your trampoline from blowing away but it will certainly reduce the risk and reduce your liability. Hopefully the winter storms have now passed and we can look forward to some spring days having fun on our garden trampolines.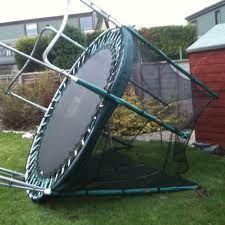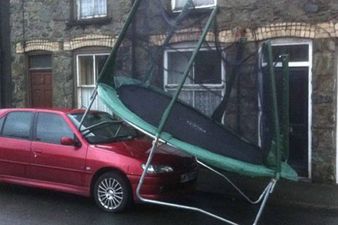 Useful Links
Contact Us
Trampoline Articles
Box to Bouncing in 45 Minutes 16/02/2017
When Telstar introduced their new Orbit trampoline as the fastest, easiest garden trampoline to build EVER we had to put it to the test...
more
VORTEX Trampoline Demand in Black Friday Sales 30/11/2015
Black Friday came and went and the sales of garden trampolines soared...
more