Telstar CLASSIC or the Telstar DELUXE Trampoline, What's the Difference in these Round Trampolines?
18/03/2014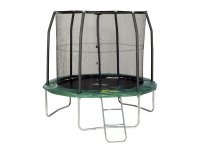 So you are looking for a round garden trampoline, you have searched all the various trampoline websites you can find and you have read every review going after much confusion you have decided that Telstar is the brand you would like to purchase. Great! Just one more decision to make, should you buy the Telstar CLASSIC Jump Capsule or the Telstar DELUXE Jump Capsule, they look the same so what's the difference? These trampolines both have identical safety enclosures with the double secured entrance and patented G3 rodding around the top of the net. The DELUXE range has longer springs, a thicker surround pad and a better warranty. It also has a thicker steel frame resulting in a heavier maximum user weight. At the time of writing this article, Telstar were also offering a free Circus Tent with any Telstar DELUXE Trampoline purchase.
Telstar trampolines really offer a quality garden trampoline at a very competitive prices, whether you choose the CLASSIC or the DELUXE the kids and the adults alike will love the Telstar brand.
Useful Links
Contact Us
Trampoline Articles
Box to Bouncing in 45 Minutes 16/02/2017
When Telstar introduced their new Orbit trampoline as the fastest, easiest garden trampoline to build EVER we had to put it to the test...
more
VORTEX Trampoline Demand in Black Friday Sales 30/11/2015
Black Friday came and went and the sales of garden trampolines soared...
more