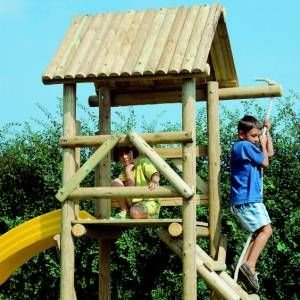 The Playtower - a real log house, built using round and half-round timber! The children can reach the tower by means of a ladder or a climbing rope, just like Tarzan in the jungle. For safety there is a horizontal bar above the slide and the ladder.
The Playtower consists of:
1 x Tower
1 x Slide
1 x Ladder
1 x Climbing Rope
Useful Links
Contact Us
Trampoline Articles
Trampoline Health Benefits For 2023 11/11/2022
Trampoline Health Benefits Well, the basic act of jumping on a trampoline that brings so much happiness is quite unexplainable...
more
Why you should choose an Oval Trampoline 10/10/2022
What Is an Oval Trampoline? From the invention of round garden trampolines many decades ago trampolines have evolved...
more