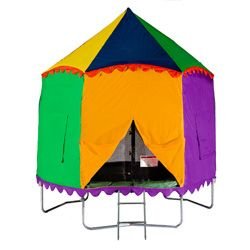 FREE TELSTAR CIRCUS TENT
The Circus Tent is a weatherproof cover which enables the children to use the trampoline in all weather conditions. The Circus Tent takes approximately 10 minutes to errect. Once your little budding ringmaster's and lion tamer's are tired of bouncing they could use the trampoline as a den area to play and have fun or as a tent for sleepover's.

Normal Price - £129.00
Useful Links
Contact Us
Trampoline Articles
Trampoline Health Benefits For 2023 11/11/2022
Trampoline Health Benefits Well, the basic act of jumping on a trampoline that brings so much happiness is quite unexplainable...
more
Why you should choose an Oval Trampoline 10/10/2022
What Is an Oval Trampoline? From the invention of round garden trampolines many decades ago trampolines have evolved...
more